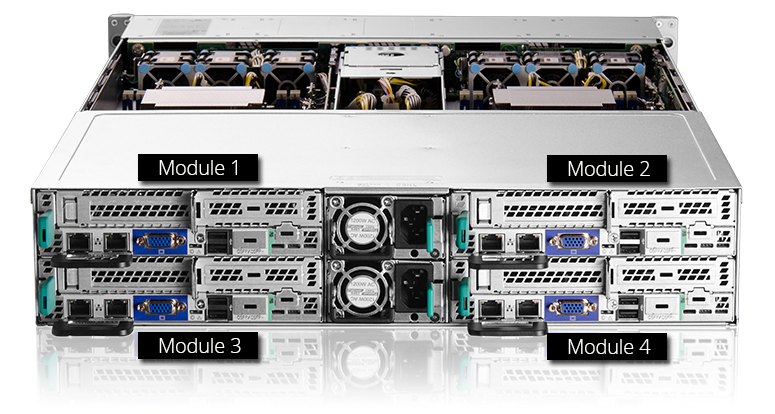 'Ready-to-Render' Renderfarm
The Rendercluster R60 is a complete renderfarm with an enormous power of upm to 96 Intel Xeon Cores, completely assembled and ready for use. If this is still not enough for you, you can combine more Rendercluster R60 with each other and let your projects and visions be calcutlated in breathtaking speed.
The Rendercluster R60 consists of 2 Compute Moduls. In this version there are 2 modules both equipped with two Intel Xeon E5-2600v2 processors. You can equip your R60 with up to 4 nodes. Should you need even more power you can add another 2 modules to your R60. Two Redundante 1600W power supplies will ensure a safe and reliable energy supply.
The Rendernodes of CADnetwork can be easily set and integrated in already existing networks. You do not even need to be in the server room as you can comfortably administer them from your tablet or workstation.  Even over the internet it is possible to switch the server on or off, exercise hardware diagnoses or install the system software.
Compute Module 1
CPU: 2x Intel Xeon E5-2630v3 ( 8-Core 2.40-3.20 GHz 59GB/s 85W )
RAM: 32GB DDR4-RAM 2133MHz ECC Memory Reg. (4x8GB)
HDD1: 250GB SSD Samsung 840 Serie SATA 6GB/s
Compute Module 2
CPU: 2x Intel Xeon E5-2630v3 ( 8-Core 2.40-3.20 GHz 59GB/s 85W )
RAM: 32GB DDR4-RAM 2133MHz ECC Memory Reg. (4x8GB)
HDD1: 250GB SSD Samsung 840 Serie SATA 6GB/s
2x MS Windows 7 Professional 64 Bit